Muskoka Graphics is now a CREA DDF® Technology Provider What does this mean for you?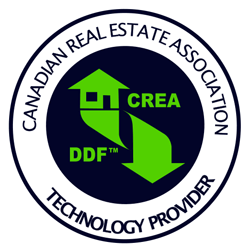 This means We can provide Real Estate Agents and Brokerages with effective, unique, self managed or managed web solutions that not only display your listings or listings within your board, but your website will host these listings so that search engines will rank your website much higher than websites that frame in listing results from other sources, or worse use your listings to benefit your service providers domain name rather than you see the benefit from it.
Your website can have it's one unique look and feel built on the wordpress system so that you can manage your own blog and update yours, or your agents information without the high monthly cost of a web developers expensive time to manage that for you.
Our web solutions provide you with:
Social Media

Share listings on social media sites like Facebook, Twitter, Google+, LinkedIn and Pinterest.

Seamless Integration

Automatically  synchronizes data feeds from CREA's Data Distribution Facility (DDF®), multiple times per day.

Listing Views

Lists properties in 3 different ways- Thumbnail View, Map View and Normal View.

Property slideshows

The slideshow features are used to aesthetically showcase a series of images from each listing.

NEW!! FOR WORDPRESS WEBSITE OWNERS!
Simply put CanAgent Pro is a WordPress DDF® plugin that doesn't feed you to the dogs. 
OUR SERVICE MAKES US SUPERIOR
CanAgent pro is unlike any of the competition out there.  See we realize that Realestate agents and Website builders should do what they do best, Sell Real Estate and Build Websites.  What we do best is feeding your website with real estate Listings that is SEO Driven and Easy for your visitors to navigate, we drive traffic because the data is indexed on your site with search engines and traffic is business!
SUPERIOR SERVICE
For CanAgent Pro Service is the thing we are selling here.  We don't sell you a plugin and then feed you to a 300 page manual and a support forum that may or may not contain the answers to your problems.  We at CanAgent pro have built this plugin so that you could easily install it and operate it, but we do that for you instead.  We Install it, configure it, provide you with 5 pages of listings however you like them sorted and ensure its compatibility with all the other plugins and themes your using.
WHY OUR BUSINESS MODEL WORKS.
The problem with all the other solutions are, installation and configuration is not simple so you end up having to pay them to install it, and if something breaks, you pay them to fix it.  You wait and wait and hopefully your problem gets solved in a reasonable time sometimes not at all.   The big problem with their model is they sell you the plugin, when sales drop they cannot afford the support staff to service you.  Your website is down, your customers and clients are disappointed and at the end of the day your not doing what you are supposed to be doing… "Selling Real Estate".  Our monthly or yearly license ensures you are up and running and your issues corrected in a reasonable timeframe and compatible with those other plugins you need for your site.   It also ensures that development goes on, features are added, requests are listened too and the enhancements are included.
WE'RE NOT JUST SELLING A PLUGIN, WE'RE SELLING OUR TEAM.
CanAgent Pro is currently in Beta Testing and can be viewed on the following websites:
The trademark DDF® is owned by The Canadian Real Estate Association (CREA) and identifies CREA's Data Distribution Facility (DDF®)