WordPress FTP Plugin File Uploader for Printers
WordPress FTP File Upload plugin
THE NEED
Recently found myself in need for a good solid wordpress ftp plugin module to allow my clients to transfer large files that would be unrealistic for email to me directly.  As a graphic design company I frequently work with larger files that really require they be transferred to me via FTP.  The problem with this is many of my clients are really not FTP friendly and as such you tend to spend a lot of valuable time on the phone explaining ways that they can get you the needed files.  So I did a search on Wordpress FTP File Upload plugin and came up with Easy FTP Upload… I thought great, problem solved!
THE TEMPORARY SOLUTION
After some time using Easy FTP Upload.  A very crude module that would allow visitors in my website a form to fill out with a browse button that would allow them to attach a file.  This file would then get transferred to my website and once completed it would be transferred via FTP to my FTP server and the form would be emailed to me to alert me of an upload.  I happen to run Filezilla Server on my work machine so in essence these files were being uploaded directly to my computer at the office avoiding email and all the headaches of teaching someone how to install and use an FTP client.
There were several problems with this outdated module.
There was no captcha code so the form was getting spammed several times daily which was incredibly annoying.
There was no progress bar and to the end user it would seem that nothing was happening for them and they would close the upload session before it was completed.
There was only the ability to upload one file at a time.
THE PERMANENT SOLUTION
So I set about re-writing that module.  With a little help from another company with the progress bar idea.  The new module now has a progress bar, multi file upload, you can set what file types are allowed.  You can easily configure any FTP server and email recipient for this system via a admin panel in the settings of the wordpress dashboard, and a Captcha code which has proven to eliminate the spam submissions.  The new module creates a folder in the ftp server based on the inputted company name and places the file inside there.  We Call it Real Ftp Upload! And it has been given awards as one of the best FTP file transfer plugins for wordpress by several rating sites.
SUPPORT
While we cannot support every FTP server out there I can say that this has been tested with Windows Terminal Services FTP server, FTP configurations for CPANEL/WHM and Filezilla Server which is a free open source ftp server software that works very well and the plugin is currently running on WordPress 4.  If your having config issues I will try to support you with them as time allows.  Please go to the contact us section of our website and select support from the drop down list of recipients.  This will create a support ticket within our system.  In the form please provide your wordpress admin url and login as well as ftp information if you don't have that already plugged into the settings.  Please note that our plugin uses FTP not SFTP.
While every effort has been made to ensure that this plugin works with any system, we cannot guarantee other plugins may cause a conflict with this one.  We make no warranty that this plugin is compatible with other installed plugins on your website.  We ensure that this plugin works as described and that can be verified here on this site where files routinely as large as 300 meg are uploaded using it.  We do not provide support for your specific modifications or languages however you are free to modify this plugin as you see fit.
Our system here is running on the latest wordpress, and connecting to a filezilla server instance on our office computer.  Files are uploaded directly to our office computer through the plugin.  Please be aware that some hosting companies limit file uploads.  The files are first uploaded to your wordpress website in a temp folder then transferred to FTP from there.  If your hosting company has limited your uploads you need to get them to open that up by altering your php.ini file, up to the largest size file you feel will accommodate your customers.  If your hosting company cannot help you with that, consider Muskoka Graphics hosting or an alternate hosting company that can support you in that situation.
To determine what your hosting company is limiting your upload size to you can create a text file and add the following code to it :
<?php phpinfo(); ?>
Rename the text file to phpinfo.php, upload it to your website public directory and call it with your favorite browser
You can see the form in action on this website Here  We are happy to help support you if you are having difficulty however please try to install and configure the plugin yourself.  Often times a support ticket is created seconds after downloading the plugin.  We are a busy Graphic Design company we are hear for emergencies but please work though it yourself first.
At the end of the day if your hosting provider cannot support large file uploads, it's time to look at another hosting provider.  Let Muskoka Graphics help with that.  Experience the same level of support with hosting that you experience with our Design, Web Development and wordpress module development!
THE FRONT END: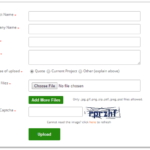 [/one_half]
[one_half_last]
THE BACK END SETTINGS: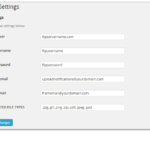 [/one_half_last]
THE PROGRESS BAR

---
Please note: A no refund policy on this plugin once downloaded.
---