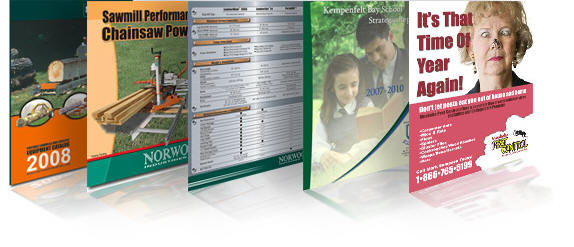 Muskoka Graphics digital printing services use high speed Xerox printing equipment that is technologically savvy and capable of printing documents faster than the normal printer. Our digital printing services offer a competitive rate on full color printing, or black & white, and the look and appearance of the printed piece is comparable to offset printed materials.
Digital printing is especially suited for short run printing of brochures, flyers, posters, Menus, booklets, manuals or any other printed material which you can benefit from the quality of brilliant full color production. Muskoka Graphics state-of-the-art printing equipment is also being used to print from electronic files submitted by our clients through the online system (SEE BELOW).
Digital printing services are offered by Muskoka Graphics on many different paper stocks, including bond, gloss text and cover, as well as dull coated papers. And every time, the imaging comes out full of color and vibrant. And if your job requires to be printed on an offset press, rest assured that our prepress employees have kept up with the rapid changes in the printing industry. We are current on the major graphic design programs, such as Creative Suite (InDesign, Photoshop, Illustrator), as well as Quark and Adobe PDF's.
For offset printed jobs, Muskoka Graphics has partnered with several print brokerages which allows us to provide you only the best price structure on your printing needs.
Whether your print project requires special treatment or not, Muskoka Graphics is here to help you. We can provide you with our sample reviews and discuss your printing needs.