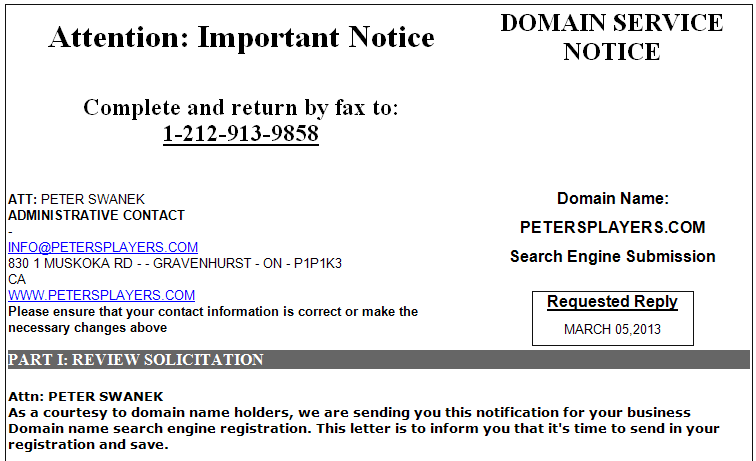 Something I have been meaning to post for a very long time and I am sorry I am just getting to this now.
I build a lot of websites.  As such I also register a lot of domain names for clients.  Generally speaking I just hold the domain names and keep them in my name so that it's easier to manage.  One huge benefit of this is Domain Registry Scams.  I receive them all the time, but its only when one of my clients that already has a domain name that receives one of these scam emails or letters that prompts me to warn you of these scams.
They attempt to get you to transfer your domain to their holding account.  Mind you, you generally still own the domain, however you are now paying double or more for that domain yearly by doing so.  Always be on the lookout for these scams.
One recent scam received by a client is by "Domain Service Notice"  It comes in by email and has all your personal information pulled from the actual domain name.  This email starts out looking like this:
Another common domain registry scam is sent by letter from Domain Registery of Canada and looks like this: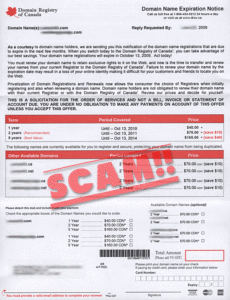 These are just two of the many domain scams out there.  Always check your domain's actual expiry date before you re-register with a scam artist.  You can check the registration info of your domain from my website here:
https://www.muskokagraphics.com/account-portal/domainchecker/
But a sure way to deal with it is to ask your website designer or web hosting company if it is a scam or not.  They will provide this information to you free.  It's just part of quality service.
Have you fallen for a domain renewal scam?  Let us know!